 Long Description
The Carlyle Lions Park Campground is a quiet, well-treed campground situated west of the baseball diamonds. Modern washroom with showers and flush toilets. Dumping station. Golf courses nearby. Heated swimming pool, hot tub, children's pool and playground. Pet restrictions apply, no large pets allowed in campground, only one pet per site.
Address
Box 10, Carlyle, SK.
S0C 0R0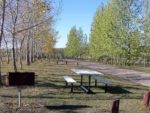 Long Description
The Meadow Lake Lions Park is located within town, this park features a campground, playground, baseball and softball diamonds, running track, walking path, soccer and football field and amphitheatre. Meadow Lake & District Museum and Tourist Information Centre on site.
Address
General Delivery, Meadow Lake, SK
S9X 1Z9